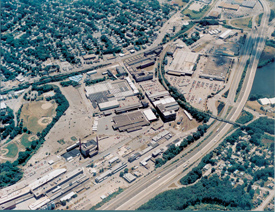 *Rollover small images to view larger
| | |
| --- | --- |
| Location: | Worcester, Massachusetts |
| Square Feet: | 384,069 |
| Acquired: | October 1997 |
| Status: | 80% Leased |
This sprawling heavy manufacturing complex was shuttered in 1986 and seemed unmarketable for over a decade, frustrating corporate and public officials alike. Perceived environmental issues also hung over the property.

In 1997, Liberty Companies approached the owners of the property with an offer that included a risk-relieving remediation plan for any site contamination and a vision for redevelopment. In return, Liberty was able to acquire the property for just $1 million.

Following a redevelopment investment of $6.5 million by Liberty, the property was fully leased to an eclectic range of new tenants, including a charter school and a high school; Biomedical Research Models, Inc.; NES Companies, LP; Cardinal Freight Carriers Inc.; Reed Machinery, Inc.; Mead Westvaco Corporation; and Central Massachusetts Collaborative.